After a season of less than ideal conditions in most of the Northeast (including dodging trees in the water at Stotesbury Cup the week prior), Mercer Lake was the venue or Scholastic Rowing Association of America's Championship regatta. And on water where our US National Team trains daily, scholastic teams from all over the country rose to the occasion, making their well - schooled body prep, quick catches and fast leg drives count.

If ever want to feel the energy of the sport of rowing at its finest, go to the SRAA Nationals. Hordes of spectators (tautly tethered with heartstrings to the athletes) are treated to some fantastic rowing and have every cowbell and vocal cord vibrating; coaches are among the most dedicated lot at any level in the sport; and athletes range from wide-eyed froshies aiming to use their new found height to fine-tuned (and seemingly media-trained) single scullers on their way to Ivy League boathouses.

With rain predicted for the Saturday afternoon finals, the schedule was condensed and officials lost their lunch break. While the final few awards were distributed near the finish line, the rain arrived with vigor, clearing the course and clogging the road out of the park. Aside from the threat of more rain, the water looked good, row-able, and indeed of championship quality.

Doubles started the finals schedule, and also started a series of wins for a Florida team who took near - ownership of the lightweight boys category. Belen Jesuit of Miami, Florida has won medals at SRAA Nationals in the past, but had never won gold. In 2014, the lightweight boys double started a gold streak for the team. Hector Formosa-Murias and Joey Armengol had the goal of reaching the finish line in 5:17. They had heard that the conditions on Saturday were "on average" about 10 seconds slower that Friday. With a 5:12 in their heat and some speed in their pocket, (doing some heats - finals - conditions math) they decided their goal was 5:17…five seconds faster after adding the 10 seconds for conditions. Make sense? They busted their goal regardless: 5:14, beating Malvern Prep by an open water distance of 11 seconds. "Malvern pushed very hard at the start, but by 500/600 started to drop off, and at 750 we started to walk away," said Armengol. "At the gazebo, we took the beat up to 36," he added. Coach Yunian Cabrera said, "They were very motivated, imagine…if you never got gold here before and you have the chance to get the first gold medal for the school," he explained. The team continued on a winning streak, with more from Coach Cabrera and Belen Jesuit to come.

One of the categories in which Belen earned silver rather than gold was when they went against Roman Catholic of Philadelphia in the lightweight 4x. Ben Weaver, bow of the Roman Catholic quad, said "it was one of our best races—very clean—there were a lot of good boats in our final." Coach Coons of Roman Catholic told the boys to "keep it together and get your legs down," adding that these guys are good rowers and he was confident the boat would "pick up" and move. This quad has had an undefeated season, and the LW doubles winners from Stotes were within.

Belen Jesuit reclaimed the plaque-and- hat-earning spot on the podium with the lightweight four. The Miami crew included a former Shipley (Philadelphia suburbs) rower, Daniel Brennan, who says it is "great to come back to this area and win." Stroke Alejandro Seda said their settle is usually about a 35, but they were up to a 48 or the start sequence. "At 500 to go we went to 38, then kept going higher and higher," he thinks they were at a 42 at the finish. Bow Joseph Perez (JR) says "we took some bad strokes at the beginning—we were ahead by just a bow ball, but then we got it together at about 1000 meters and we heard the crowd." Three -seat Christian Burke (SO) says it is "great to get a medal for the school—it is worth all the training." During any Belen Jesuit interview, Coach Cabrera is beaming with pride beside his athletes—congrats for two golds, two silvers at SRAA for the Miami day school.

In the JV Girls open double, a small program in Troy, NY, Emma Willard School, borrowed some Saratoga Springs, NY talent and ended up with gold. With two coaches, Sasha Weilbaker and Fiona Casey have a 1:1 ratio for coaching here at the SRAA event as well as knowledgeable parents in the sport, all adding up to well-spoken young women who know how to get from catch to finish. "We've been trying to get miles in," says Casey. "We had a late start to the season. We have been practicing with the eight so we have been pushing hard in practice." Casey's older brother Liam is making his mark in a Brown University eight right now, and Weilbaker's mother is a master' rower.

"We had trouble with the start—we were behind at 100 meters" said Weilbaker, "but we brought it up to about 35 or 36. Berkeley Prep pushed us hard and had a good sprint in the heats; we knew we had to have a good sprint today."

The girls, budding advocates for the sport, are trying to get Emma Willard School to have rowing in the fall too, and felt that a win at Nationals would be justification for that commitment. They are coached by Bob Tarrant and Kat Amano.

In the freshmen eights, two well-established programs finished ahead of the rest, one by a few seats, one by only a few inches. New Trier (IL) Boys won by almost three seconds over Central Catholic (Pittsburgh), then Saratoga Springs High School just squeezed by with a .08 second win over New Trier, preventing a "Trevian" dominance of the Frosh Eights.

"Our goal was to start ahead," says freshman coxswain Josh Klein. "We started at about a 44," he says. "At about half way they (Central Catholic) caught up, so we made a middle move," he added.

"We wanted to be fast at the start," says 5-seat David Thiss. "And we did a power 30 at 750 and didn't settle," says the engine room rower.

Although the young crew all asserted their will to get ahead, 3-seat Paul Segraves added with candor: "My head was not in the boat… I am just putting it out there." The rubberneck-er added enthusiastically on the side, "We were killing them!"

The girl's category of Frosh eights was won by a dynasty in the category, Saratoga Rowing Association. Having a solid "modified" (middle school) program in in the region has produced some talented rowers who are just 13 or 14. Coached by Alida Durrant, the girls started the season late due to tremendous ice on their body of water (Fish Creek/Saratoga Lake, the venue for what has been nicknamed the 'Chris Chase Nationals'—National School's Championship June 7/8—started by the namesake local regatta director and scholastic rowing devotee.) The younger members of that program traditionally take a one-week winter training trip to Florida, crucial for the education and training of a team that doesn't get on the water until very late, as Saratoga is the foothills of the icy Adirondacks.

After their race on Saturday, winded parents puffed over to the recovery dock from their 500 meter land sprint to greet their brood who had just won… by a breath. "We didn't know who won!" "It was exciting!" "It was awesome." All overheard. They pulled it out with considerable poise given their age. Their win over New Trier was the first of three wins in the big eights for the Saratoga Springs team.

Not to jump ahead in the schedule, but worth talking about the Saratoga girls eights and their coach Eric Catalano. Catalano quickly gives credit to Alida Durrant and Isa Rahman, who have been coaching freshman and 3V's respectively for Saratoga. "In three years Alida has had 8 freshman 8+ golds, 2 freshman 4x golds, and a freshman 4x bronze," adding that makes 30 athletes that are National Champions before they even get to the 2V or 1V boat at SRA. He gives credit to them because he keeps line-ups fluid in the spring, and a 3V rower, Grace Mastrianni, ended up in the 1V at 4-seat in this regatta because of Isa's preparation, a little coaching intuition, and some athlete drive. Other 3V-ers ended up in the 2 and 3 seat of the 2V. Catalano says a lot of these decisions have been made from pairs rowing in the past, but this year with the ice and late start, he had to rely on his experience and just do a lot of experimenting on lineups at practice. "They have to compete against each other at practice," concludes Catalano.

Today, Saratoga won the 2V, 1V and Freshman 8's. With Saratoga being a small-ish town with a population of only 30,000, coaching is a big part of the success of the program. Catalano has been at SRA since 1998 (although gone from 2004 - 2007 at Radcliffe), has coached either the boys or girls varsity to the podium the entire time.

Not to be overshadowed by the girls program, the Freshman Boys Quad from Saratoga also took a win here. Coached by Chris Chase, Danny Dalton, bow of the boat, said that coach's last words to them was "No one beats us," then laughed. Actually he said, "Row your own race… let the other boats race us." At Stotesbury, this boat had some problems. "The current around the bridge seemed to thrust us in to the wall—we started in lane 3 and ended in lane zero, "said Dalton. After a fourth at Stotes, they were primed for a victory at SRAA. "It was tough in the beginning, but in the middle it looked more promising," said Caleb Gordon.

Conestoga started their sculling medal juggernaut with the freshmen girl's quads. Although bow of the boat Kate Hudson says "we had a terrible start—we were not rowing well together," she added "but we still managed to win." The win was by a meager .2 seconds over a team that has been breathing down their necks for most of the season: Ridgewood. Conestoga has been winning by different margins at each contest (four seconds at Stotes, seven seconds at Cities, and just .2 seconds here), so kudos to Ridgewood for staying in the game against some stiff competition. Stroke Laura Alcorn says they kept it at 31 or most of the race but bumped it up a beat or two for the finish, which was just enough for gold at SRAA.

The Conestoga JV Girls Quad won by a small margin too—just .8 seconds. "We all agree it was a little intense," says Stroke Maddie Beirne, a junior. "Woodbridge (VA) was ahead," she said, about a seat at the 500. Bow seat Angela Sarkisian said "we started out sprint a little earlier—took it from 35 to a 40 at the sprint," which sealed the deal, a little closer than they are accustomed to.

Another Conestoga quad, the lightweight girls, captured gold despite a boat-stopping crab at the gazebo about 750 meters into the course. "We had never raced against Shaker, Poughkeepsie or Saratoga," said Anna Zibinski, junior bow of the crew. Katie Groves, a senior, said they were two false starts—one for Strath Haven and one for Egg Harbor, before a legitimate start. Despite that, she says they settled nicely. Stroke Amy Connell said she kept it at about 34 or 35. Senior Sophie Bodek says they have not had much competition in Philadelphia during the season, and they were concerned about "how we would compare to the NY crews." They seemed to do quite well, and Groves concluded, "We always want to do our best against any crew," but that at Conestoga, there is considerable team pride in their reputation, and they measure against themselves as a matter of practice (a shared reply from any Conestoga crew or coach).

The Varsity Girls Quad was also a Conestoga win, again over Ridgewood like the freshmen. Stroke Annie Graf led this team despite what appeared to be a muscle pull in the rib cage last week. Still smarting after the race, they nevertheless won by five seconds. "We were third off the start—we normally have a strong middle/settle…," said Graf. Megan Hudson, who has rowed and won with Graf for four years and is sister of Frosh girls quad winner Kate, said, "We lay back more as a transition," to get some length after a start. The team is going to Youth Nationals in California next month, good luck to them on the West Coast.

Undefeated boats showed up at the start line all day—seeing if that streak can continue in Mercer Lake against the best high school crews. It is worth noting that this is often considered a true high school championships, without boarding schools with students from all over the world, or clubs that pull from several regions, so dynasties and winning streaks are a credit to coaches who figure out how to make the most of what shows up in the boathouse in the spring.

One small boat on a two-year winning streak is the Ridgewood lightweight girls double, a crew this reporter dubbed "the winningest crew who does not plan to row in college." Sophie Noel and Maeve Cannon are heading to school to Boston College and McGill (Canada), where they may or may not row, but are living in the moment for now, and winning gold in the LW double at SRAA Nationals with a six - second margin. They had never raced Shaker before, and although the Albany, NY-area crew put up a good fight, Noel and Cannon were trying to maintain that two-year unbeaten streak and had the drive to deliver. "We try to stay calm and consistent with focus," said Noel. They race low- only at about 30-32, and made their streak look effortless, though it clearly is not. Congrats, now hit the books.

So, more talk about streaks. Holy Spirit Lightweight Girls have won at SRAA Nationals for the past three years. This is a credit to Coach Rory Roberts, who then says the girls are very motivated—he just guides the technique. Whatever it is, there is magic in the Spirit Girls LW Eights. Caroline Bradley and Danielle Peck (5-and 7-seat seniors) have won SRAA Nationals for most of their high school career. Peck says "we just do what it takes to win," and that is a refrain commonly heard for the Spirit crew. "Coach Rory" trusts the girls enough to figure out what that means for each race. At this particular race, Peck says "It felt good the whole time—everything came together." Coxie Brittany Chiari (JR) said breathlessly, "We were at 36 for most of the race—then we jacked it up for the sprint, we were so in the moment!" They won by about three seconds over Mount St. Josephs, a local competitor for Spirit.

Although the rain at the end of racing prevented speaking to Manhasett High School, they took control of the girl's fours like many previous weeks this season as both the Varsity and Lightweight crews won at SRAA. Coached by Hugo Guardado, the Long Island crew is small in number but large on talent. This week, a coxing change put sisters Emma Hanley at cox and Keagan Hanley at stroke of the lightweight Four.

Single sculler Dan De Groot has been winning races by distances viewed on Google Maps for his entire season in North America, but De Groot seems to take that as a stepping stone. The Princeton-bound Canadian is humble but effective on the water, and won at this SRAA Nationals by 11 seconds over Matt Scholl of Cornwall School. The Governor Simcoe Secondary School Senior says "I've been training in the single all year—I love the eights but our program is small," says De Groot, who is an analog of his father who was there for support. "He does it because he wants it so much," says his mother Lindsey. De Groot is training through all the scholastic championship season to prepare to qualify for Junior Worlds in Hamburg, Germany.

Girls Single Sculls winner Natalie Stuart of Episcopal Academy had a different path. Challenged by local competitor Kate Horvat of Germantown Academy all season (winning one bout), she "wanted to end the season on a good note." But gave kudos to her race partner: "I have improved so much being able to row next to her." Although they do not train at the same part of the Schuylkill, they race Manny Flicks and Cities and Stotes against each other, and Stuart says "it really depends race by race," how things turn out. Stuart's parents James Stuart and Jan Goplerud row together as a mixed double out of University Barge Club on Boathouse Row during the head race season. Stuart is attending Skidmore in the fall to study—she thinks—English.

St. Joseph's Prep Lightweight Boys Eight has been winning with the swagger of a Prep boat all season. With a tradition in Philadelphia and the Northeast (and often in Henley Royal Regatta, UK) this program has dedicated coaches and fills seats collegiate Men's teams all over the country. At SRAA, it is the lightweight boat that is the hallmark of the program, although the heavyweights also earned silver today against Gonzaga in the 1V Final. SJP won the lightweight event against the efficient Belen Jesuit by 6 seconds.

"It was a great race, a great start," says 5-seat Liam Madden. "Going into the 500 we wanted to make a move and make it count… we took a 15 and hammered it out at about a 36 - 38. At the end we let it go… it was a 42."

Malvern Prep is a smaller program that has produced some of the best sculling athletes in the Northeast. Coached by Craig Hoffman and Art Post, the Malvern Prep team has been contenders at SRAA Nationals, US Rowing Youth Nationals, and Henley Royal Regatta for many years. This year they won SRAAs by more than three seconds over Conestoga, timing a good row just right. Bowman Chris Frey (who will be rowing at Dartmouth in the fall) says "the whole season we have been behind at the start." They have lost to local challengers Conestoga and Roman Catholic as recently as last week at Stotebury Cup. "So when we were ahead in the beginning we knew that was good," he adds. The seniors are all going on to row at college in the fall; Sincavage at Princeton, Connor at Penn, White at Georgetown. "We hit the settle very well and executed our race plan," said Jackson Connor. Stroke Sincavage says that coach gave simple advice: "there is nothing to it, but to do it." (Easy advice from the shoreline, right?) Adding "keep it simple—don't think just go." Perhaps Hoffman sees this crew as ones that overthink, but his coaching strategy, and the athletes race plan, seems to have worked.

Last year at SRAA, a boat-stopping crab put favorite Gonzaga out of contention in the final of the Boys 1V Eight. This year, with Leo Toch again at stroke, the crew had a clean and effective win to take the race by almost three seconds over challenger St. Joseph's Prep. It has not been a perfect season for Gonzaga - they lost to St. Alban's in the regular season - but they have been building speed and keeping the race internal as they came into championships. 5-seat Frank Vasquez said, "We just stayed with whatever we have to do." For his part, Coach Mark Mandel seems to (I am guessing here) train his athletes to feel the boat, stay within the boat, and make the most of the moment. "We have the same race plan each time, do power strokes at about the same time," says Vasquez. He says the move in the middle was his favorite part—it separated them a bit at SRAA Nationals when racing is tight. For this boat, a win here after a disappointing finish last year was very sweet.

Fantastic racing Saturday was concluding and awards being given when the rain started on Mercer. With vendors quickly closing their shops and parents pulling down tents and grills, the shoreline was a ghost town within minutes. My apologies to any racers who didn't get to speak about their victories, and congrats to the winners at SRAA Nationals.
Related Video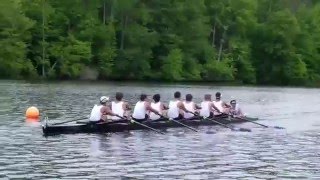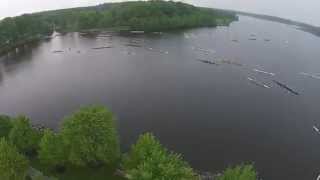 St. Edward's Rowing SRAA 2014 drone
This video is about St. Edward's School Rowing crew on practice day preparing for the SRAA National Rowing Championships Lake Mercer, NJ May 2014.