The formbook was absolutely shredded in this morning's heats in the Men's V8 at the EARC Sprints after an incredible series of races in all three heats. Topping the list in the first heat was an "instant classic" row from 12th-seeded Dartmouth, who from lane 4 paced the field to the event's fastest time of the morning, beating #1 seed Brown and knocking out #6 and #7 seeds Syracuse and Northeastern.
"They had great spirit," said Dartmouth head coach Topher Bordeau after the heat. "I can't explain it, and I am glad I don't have to!"
Things didn't get any less wooly in the second heat; even without an upset, fifth seeded Princeton held on for the 2nd Grand Final spot, just a nose ahead of a charging Cornell crew, with both of those crews just down to Harvard.
Not to be outdone, the Columbia Heavyweights went for broke, winning their heat from the #9 seed in a photo-photo-finish, with #4 Wisconsin and #3 Yale just behind, all three crews finishing within 22/100s of each other.
We'd written here that the EARC V8 was a tight field this year, but this is ridiculous; this afternoon's racing promises to be entertaining right through the Petites.
Lower seeds also made some noise in the Varsity Lightweight Eight, with the Penn Lights nipping a higher-ranked Georgetown crew to nab a spot in the final, while Dartmouth (a late peak from the whole Hanover boathouse today, perhaps?) knocking out Cornell to earn their berth.
Times are fast today; the lake is reasonably calm and there is a light, straight tail blowing down the course, all with temps in the mid- to high-60s. If you have ever raced at Worcester in bad conditions, you would love it here today.
While some folks may cleave to the scent of pine tar and the crack of the bat as a harbinger of spring, I'm not sure there's anything that says "late May" more than a call of "BOOOOWBAAAALLLL!!!" bellowed across Quinsigamond on a Saturday morning; we heard a few great ones today.
Finally, a shoutout to Cornell alum and all-around good guy John Flynn, who hooked up row2k with a tall cup of the good stuff at oh-dark-hundred this morning. Ahhhh...
Short lunch-break today, so Sprints AM photos will follow a little later. On to the Finals!
Related Video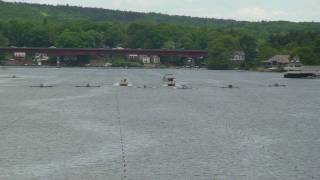 2010 Eastern Sprints HV V8 Heat 1
Dartmouth 4th seed in heat WINS. A Dartmouth Mom is happy. 2010 Eastern Sprints. May 16, 2010, Lake Quinsigamond, Worcester, MA. Lanes 1-6, Left to Right: Brown, Syracuse, Northeastern, Dartmouth, GWU, Rutgers Shot from the Route 9 Bridge overlooking the finish line. Results at: secure.powerhousetiming.com