Just like at the beginning of the week, Kiwi crews threw down fierce today, picking up medals in every event they rowed in; gold in both pairs, silver in the men's single and a bronze in the women's single, an even split between "expected" and "unexpected" medals, but a haul and a half for a country of four million people, and the regatta isn't over yet. Another huge crowd here today as the afternoon rains that were originally forecast stayed away; there were an estimated 20,000 people on hand for the finals. The noise from the grandstand was again absolutely deafening today; it can't be hurting as NZ is up to 8 medals through the first 3 days of finals.
On to the racing: in the Women's Pair the NZ crew blasted out of the blocks and never looked back; the crew stormed out of the gates and manhandled the field. At the opposite end of that field, the co-favorites Erin Cafaro and Susan Francia found themselves in a deep, deep hole early on, and showed their class by clawing their way back to a hard-earned bronze medal, although it clearly was not the race they wanted today.
See our video interview with Erin and Susan for more on the race.
The heavyweight brawl in the Men's Pair alone was worth the price of admission today; the GB pair, who'd likely heard enough about the 11-race losing streak to the New Zealand crew, absolutely floored it in the race, but could not hold on as the Kiwis claimed this one by 3/10s of a second, with Greece picking up their second men's sweep medal in as many days in bronze medal position.
NZ 2- Stroke Hamish Bond definitely knows his elite rowing; he picked his event 100% correctly in row2k's worlds pick'em this week!
Two new world champions in the Singles today, as Ondrej Synek, who has been around a few years without winning it all came through today in another humdinger of a race, finishing ahead of Mahe Drysdale and Alan Campbell of the GB. Synek had been on form this season, finishing the world cup circuit undefeated, but getting past Drysdale on his home water is a feat. This is the Czech Republic's first gold medal in an Olympic rowing event.
A new (and first-time) world champion on the women's side as well, as Frida Svensson of Sweden, who'd looked the part all week through the heats and semis, brought her A-Game to the track today, got her bow in front (no small feat in a field of known fast starters), and kept it there through for the whole 2k, handing Ekaterina Karsten a rare defeat in this race. How could it be otherwise, but the bronze was picked up by relative newcomer Emma Twigg, who hails from...NZ.
Apparently Svensson took her time leaving the awards podium after the ceremony; I think I'd want to savor my time up there as well.
All races were great today; no race was tighter than the Men's Light 4-, where the top five crews finished within 1.2 seconds of each other; 8/100s separated Gold, Silver and Bronze. GB claimed the gold, while Australia and China were separated by 1/100 for Silver and Bronze. (Check out the finish line photo of the race here, whew.)
Germany claimed both Light Quads today, while the "Bellingham Bandits," the US Lightweight Women's Quad of Abby Broughton, Ursula Grobler, Kristin Hedstrom and Victoria Burke claimed the silver with a strong race, start to finish. It has been an interesting week for this crew, with Broughton and Grobler doubling into the LW2x during the week, finishing 8th in that event yesterday. While a fair amount of "digital ink" has been spilled on whether or not this was the right decision, etc., the fact is that these athletes finished out their week of split training and tough scheduling with a strong piece and a medal today; it's not easy to do that at Worlds.
Check out our video interview with the crew for more insights and reactions from the crew after their race.
There was a lot of doubling up in this event, as the GER silver medal LW2x doubled into the quad for gold today.
The US Men's Lightweight Quad of Matt Carey, Todd Mickelson, Peter Morelli and Brian Tryon finished 6th in their final today.
Over-the-top quote of the day, out of Chris Morgan of the winning Aussie coxed pair: "I just started sweeping last Thursday and I thoroughly enjoyed my first sweep race." Morgan raced in the Aussie Quad at Lucerne, and was in the pre-worlds camp as the sculling spare before he was drafted into the Lead Sled.
Italy was Silver in the event, and Germany claimed Bronze, ahead of the US crew of Stephen Young, Nareg Guregian and Justin Stangel. See below for more athlete quotes, courtesy of FISA.
Other US crews in action earlier today were the US Men's Pair, Deaglan McEachern and Ryan Monaghan, who finished 9th overall in their event, Women's Single Lindsay Meyer and the Lightweight Men's Four of Will Daly, Ryan Fox, Nick LaCava and Anthony Fahden both finished 10th, and Men's Single Ken Jurkowski finished 12th.
Brother act; the Uru brothers, Storm and Jade, both took medals for New Zealand in back-to-back races yesterday afternoon, in the Light Men's Double and the Men's Four.
Understated comment of the day, from the minutes of the FISA Team Manager's meeting for yesterday: "Team managers expressed their dissatisfaction with the state of the course for racing," whew. FISA stood by its assessment that the conditions on the lake were fair.
More grist for the mill; what's done is done, but several NZ folks have mentioned that, had yesterday's conditions occurred during a local or national regatta on the lake here, it would have been cancelled or postponed.
The US Women's Four was back on the job today, taking a practice row on the lake the day after their final. This had been prearranged; the crew was told that they would be doing this, as part of their mission here is to serve as ready spares in the event that something happens to an athlete in the pair or the eight. Still, it was cool to see them out there, all business on the day after.
The last day of racing (the "final finals," if you will) is on tap for tomorrow; stay tuned!
---
Race 139 - Men's Coxed Pair A Final
Chris Morgan (AUS) – Gold
"I just started sweeping last Thursday and I thoroughly enjoyed my first sweep race."
Dominic Grimm (AUS) – Gold
"The Italians threw everything at us but we stuck to the race plan to the T."
David Webster (AUS) – Gold
"We put together a clean race and full credit to Chris who went from sculling to sweep. I've gone from nothing to a World Champion."
Pierpaolo Frattini (ITA) – Silver
"We are new crew. We began rowing together when we arrived at Lake Karapiro, because we made many changes in the Italian team. We tried to have a good speed during the race, the same as the Australians, but they were better than us today. At the end of the race, in the last 300m, there were many waves and it was difficult to keep the good direction."
Maximilian Munski (GER) – Bronze
"This is great and it's the second medal for our cox Albert and myself, after a medal in the U23 eight this year. We only qualified for this boat during our training camp in Sacramento, so we have only been rowing together for one and a half weeks. The aim was to win a medal and that's what we did. Australia and Italy just did really well today. "
Race 140 – Women's Lightweight Quadruple Sculls
Anja Noske (GER) – Gold
"It was a bit hard after our doubles race yesterday, but great too. It's fantastic to win gold. I was pretty confident at 500m that we would win this. I just didn't want to give it away."
Marie-Louise Draeger (GER) – Gold
"The noise from the grandstand is enormous and fantastic. It just really pushed us."
Abelyn Broughton (USA) – Silver
"We pushed really hard and kept the boat clipping along. We were all pulling for each other and we never gave up."
Kristin Hedstrom (USA) – Silver
"We wanted gold no doubt about that, but it was a good race and we pushed hard the whole way."
Shimin Yan (CHN) – Bronze
"It was a good race, but windy."
Race 141 – Men's Lightweight Quadruple Sculls
Lars Wichert (GER) – Gold
"Our first 1000 were great and 500m before the finish line we had a good lead and it all was going really well so we knew we could make it. I hope tomorrow in the lightweight eight will be just as good."
Jonathan Koch (GER) - Gold
"It's an amazing feeling to be World Champion. I've never felt like this before. This is a great compensation for only having made the B-Final in the lightweight single, which I will be racing tomorrow."
Frederic Dufour (FRA) – Silver
"Today it was impossible to beat the Germans, they were better than us. Maybe we made the mistake to think just about the Italians and we didn't worry about the Germans. We had a good finish and because of that we could maintain second place in front of the Danes. I'm happy with this medal because I was injured before the French trials where I was defeated and I couldn't claim to row in the double sculls. But I hope to be back next year in the double to beat the British double."
Martin Batenburg (DEN) – Bronze
"It was a very hard race, because we had a side wind pushing us into the buoys, which made us loose our rhythm. We knew that it was going to be a long race, so we had to keep something in the tank."
Race 142 – Men's Lightweight Four
Rob Williams (GBR) – Gold
"It is the best feeling ever. That finish line couldn't come soon enough. It was a bit windy, but you race what you are given."
Chris Bartley (GBR) - Gold
"The last 500m we were in front and I knew we had it under control and we were definitely in the lead. That's what winning a gold medal is all about."
Todd Skipworth (AUS) – Silver
"I remember looking at the line and thinking we were last because it was so tight. Our Kiwi coach Brett Crow said before the race that there was a bit of a cross wind and that we should deal with it and we did."
Sam Beltz (AUS) – Silver
"It was very tight. I thought we had won, but it wasn't until we saw the board that we saw we were second. But we are very happy with that."
Zhongwei Li (CHN) – Bronze
"We raced as we had decided before and we didn't see the Aussie team. We just tried to concentrate on our stroke. At the end of the race we were first a bit disappointed, because the difference to first place was just too close and we would have liked to win. But at the end we were happy because we are a very young team. We are happy because this was our first race together."
Race 143 – Women's Pair
Juliette Haigh (NZL) – Gold
"We had a really good race and we were determined to make a move from the first stroke. You can hear the crowd from so far up the lake and it makes home seem so much closer. The crowd just brought us home on that last 500."
Rebecca Scown (NZL) – Gold
"I think we knew we would get a good distance, but we were expecting a bit of a battle. We've done well in the World Cups but everybody lifts their game for the Championships."
Helen Glover (GBR) – Silver
"I just kept thinking we are going to stay in front of the Aussies."
Heather Stanning (GBR) – Silver
"At the 500m we could hear the crowd. We knew it was for the Kiwis but we thought if you are going we are going too."
Susan Francia (USA) – Bronze
"We got off to a slow start and had to play catch up during the race. We expected the Kiwis to do well. It's their home so we are excited for them. We are not satisfied, but it will make us challenge ourselves further."
Race 144 – Men's Pair
Eric Murray (NZL) – Gold
"We made the race pretty difficult for ourselves. We didn't put the nail in the coffin early enough, so it was a sprint for the line."
Hamish Bond (NZL) – Gold
"It definitely wasn't our best race but that's what we do the training for to win under challenging conditions. We are so pleased to get there at the end. It's definitely a highlight of my career."
Pete Reed (GBR) – Silver
"I thought there would have been a bigger margin between us. But the crowd took it away from us. All credit to the Kiwis, I don't want to take anything away from them."
Ioannis Christou (GRE) – Bronze
"We tried to be at the same level as the British and the Kiwis. And we tried to attack them during the first part of the race, but they were too strong for us. We are very happy with this third place, because there were so many surprises in this World Championship. We had no problem to secure this medal very quickly. I would like to dedicate this medal to my 20 day-old boy Nikos and my wife Thommy."
Race 145 – Women's Single Sculls
Frida Svensson (SWE) – Gold
"I went as hard as possible from the start to see how long it lasts and today it lasted all the way. It was a tough course with strong girls. I might be the smallest girl, but I never give up!"
Ekaterina Karsten (BLR) – Silver
"The wind made it hard, especially at the start with the strong side wind. I didn't row as well and Svensson was strong. I tried to sprint at the finish to close the gap."
Emma Twigg (NZL) – Bronze
"In the first 1,000m, I saw Frida fly out and thought she is either going to blow out or win it and she won it. I just thought when you get to the last 500m you bite your tongue and you go, go, go."
Race 146 – Men's Single Sculls
Ondrej Synek (CZE) – Gold
"It was a dream season. I would have never imagined winning all races. After the semi I was angry about Mahe, because I thought he was playing. I don't know why he did that. I expected a hard race today and I was prepared for that. I'm very happy -- it's my first gold medal. My tactic was very easy: to be good from start to finish. It was a big race, but after 1000m I knew I would win, because I have power and a good stroke."
Mahe Drysdale (NZL) – Silver
"I so wanted to catch Ondrej and make everyone proud. That was the toughest race of my life. I had absolutely nothing left. But I heard the crowd and had to keep pushing. Thanks to everyone for the support. It's been absolutely fantastic and I'm so proud."
Alan Campbell (GBR) – Bronze
"I have to keep working harder and harder. I'll do whatever I will have to do to come back stronger and stronger next year. I thought I might have had Mahe, but not this year."
Related Video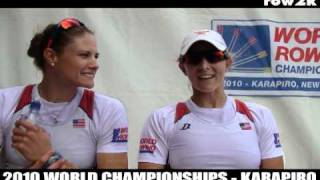 2010 World Championships: USA Women's Pair takes Bronze
The US Women's Pair of Susan Francia and Erin Cafaro recovers from a slow start and wins the bronze medal with a torrid sprint in the finals of the 2010 World Rowing Championships at Lake Karapiro, New Zealand (www.row2k.com)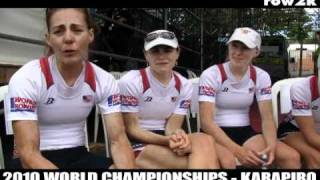 2010 World Rowing Championships: USA LW4x takes silver
The US Lightweight Women's Quad of Abby Broughton, Ursula Grobler, Kristin Hedstrom and Victoria Burke rowed a strong race to capture the silver medal at the 2010 World Rowing Championships on Lake Karapiro, NZ (www.row2k.com)