The Ivy League Championship races presented one tight field after another, with no single crew dominating and many different teams making trips to the awards dock. In no race was the depth of the Ivy League more evident than in the 1V. The entire field finished within nine seconds, with the finish order too close to be called by the spectators.

"I was standing with [Yale coach] Will Porter at the start and he said, 'anyone can win'," said Radcliffe coach Liz O'Leary. "I agreed. It's that strong of a league - that even, that competitive - you have to have a great race to win it because the difference between first and sixth is not much."

In the 1V race, the tight field maintained overlap well into the final 200 meters. Radcliffe secured their lead during the final sprint, while Cornell kicked in a blazing final 30 strokes to finish 1.5 seconds over Princeton, who edged out Yale by .09 seconds.

"I told them before the race, 'I want to see you in the mix - be a contender'," said Cornell coach Hilary Gehman. "'Fight for the whole 2000m and put yourself in a position to medal.' I was so happy that they put themselves in that position."

"For our crew to come in second--they were ecstatic," said Gehman, who has seven seniors in the V8. "That's been our goal all season—to get on the medal dock [at the Ivy Championships]."

O'Leary credits her fellow coaches with creating perennial competition. "[Cornell coach] Hilary does a terrific job-- as do all the coaches—which is why I have such faith in the strength of this conference on a national level. I think we are competitive with the fastest crews around the country."

Princeton was at the awards dock after every event. "It's one thing we really worked on this year," said Princeton coach Lori Dauphiny of winning the overall point trophy. The team set the goal "to work on each boat and to really support one another and push one another. Everyone on the team won a medal, so I'm proud of that result. "

Radcliffe's performance in the 2V race, finishing in fourth place just .8 seconds behind Yale, is an example of the strength of the League, says O'Leary. "I thought they rowed a really, really strong race—it has nothing to do with margins necessarily—on any day, anyone could win."
Related Video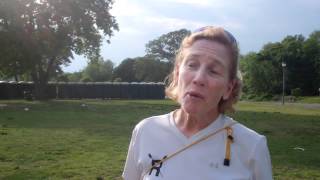 Radcliffe Head Coach Liz O'Leary
Radcliffe head coach Liz O'Leary talks after her varsity eight wins the Ivy title at the 2012 Ivy League Women's Rowing Championship.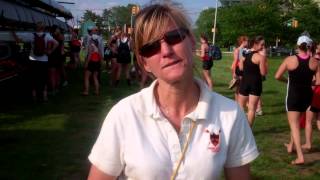 Princeton Head Coach Lori Dauphiny
Princeton head coach Lori Dauphiny talks after her Tigers finished with the most team points at the 2012 Ivy League Women's Rowing Championship.